Our digital wayfinding solution can be integrated with smart room and event boards to help guide attendees, visitors and staff with easy navigation and accurate directions. This integration combines the power of real-time event information and interactive wayfinding, offering a comprehensive solution that enhances the overall attendee experience.
Attendees can access dynamic maps and directional guidance at their fingertips by integrating the Smart Room and Event Board with the digital wayfinding solution. The interactive maps highlight event locations, session rooms, exhibitor booths, and amenities within the venue. By using a touch screen for the smart room and event board, users will be able to select the event they are interested in and then select the wayfinding icon to show them where the location of the event.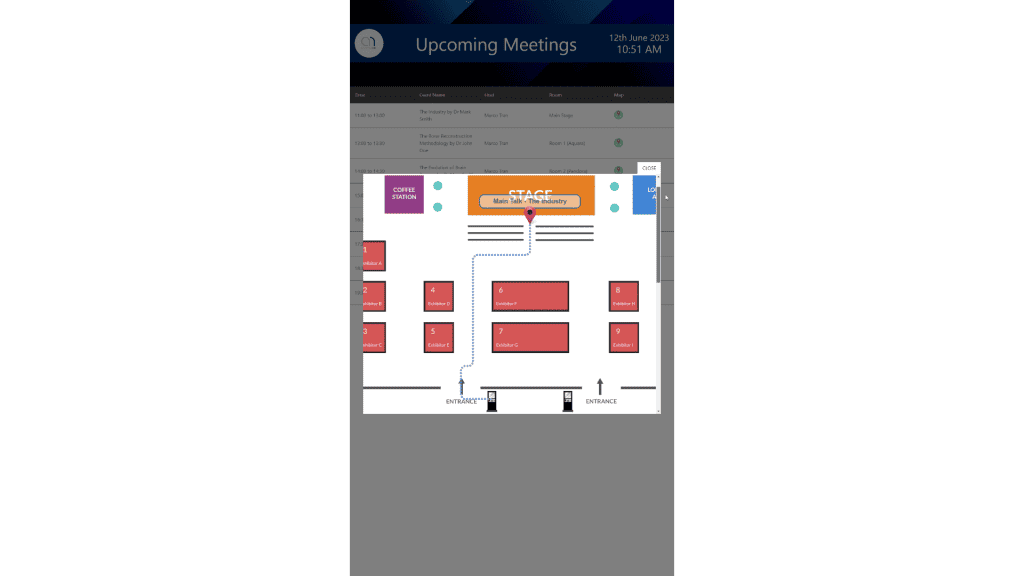 Our digital wayfinding solution will provide step-by-step directions to navigate through the venue efficiently. The integration ensures that the information displayed on the Smart Room and Event Board is in sync with the digital wayfinding solution. This means that any changes or updates made to the event schedule, room availability, or directions will be reflected on both platforms in real time. This feature ensures that all attendees have access to the latest information, thus avoiding any confusion or delays while navigating the event.
The integration of the Smart Room and Event Board with the digital wayfinding solution provides a seamless experience for attendees by allowing them to access all necessary information in one place.