Having a planning checklist for your digital wayfinding solution is one of the first things you should have. This is why we have put together a planning checklist to list of things you would need to kick start the Digital Wayfinding Solutions journey.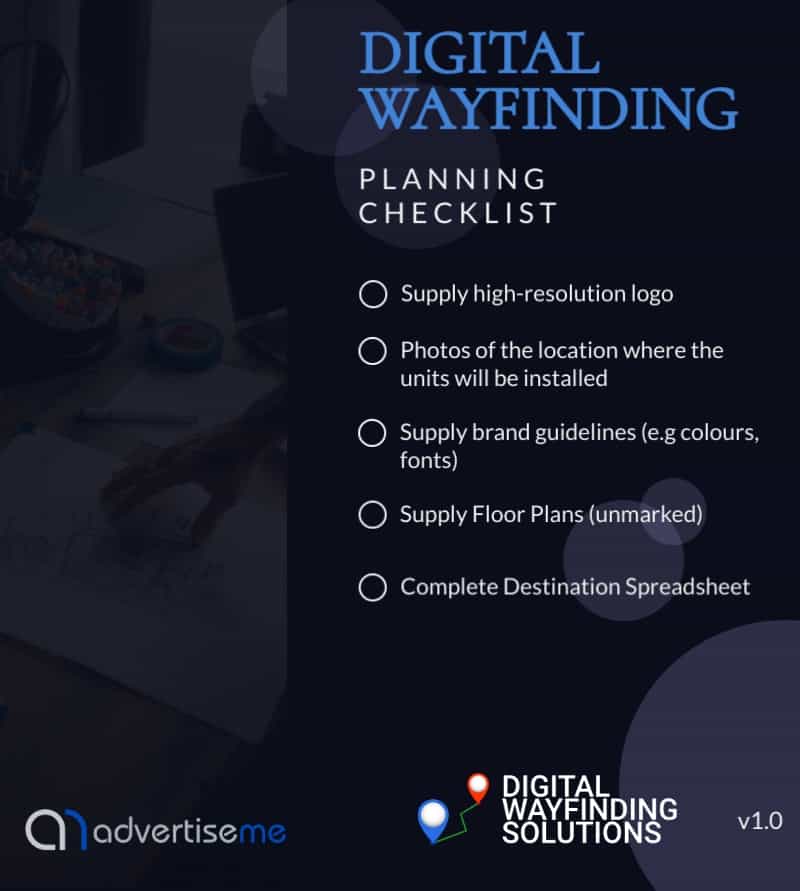 Depending on the scope of your digital wayfinding requirements, the checklist will vary but here's a simple list that we would normally use:
Supply high-resolution logo – we recommend the client provide us with the vector image of the logo (e.g SVG file format) but if they don't have this then a PNG file at a resolution of 324 x 150 pixels would suffice
Photos of the location where the units will be installed – depending on where the client is based, we can do a site visit to see where the digital wayfinding kiosk will be best located but if this is not possible then a photo will also do. Having this photo will ensure we can get a better idea of where the kiosk should be located and then provide recommendations on the best location such as factoring in installing power and data cables to the desired location. If the client is going through a building redevelopment, then we highly recommend starting the discussions before the build phase.
Supply brand guidelines – with our Digital Wayfinding Solution we are able to customise the look and feel of the frontend interface to match the client's brand guidelines. This includes colours and font types.
Supply floor plans – we highly recommend the client provides us with the CAD floor plans so that we can get the layout and the aspect of the floor correct. If this is not possible, a rough sketched layout with important key landmarks such as the entrance doors, toilets, lifts and stairs. At this stage, the client doesn't need to mark the destination locations on the floor plan as we just need this unmarked floorplan to get an idea of the floor layout and to convert these to 3D maps.
Complete the Destination Spreadsheet – we will supply the client with a spreadsheet to fill in important information that will be added to the digital wayfinding directory. This includes destination names, building names, meeting room names, staff names, retail store names, department names and keywords to be used for the search function. Once all this information is analysed we will conduct the next phase which is the Mapping Workshop.